U-MAP Corporation (hereinafter called "we") has started joint development with Mitsubishi Materials Corporation (hereinafter called "Mitsubishi Materials") to realize a new aluminum nitride (AlN) ceramic circuit substrate for power modules.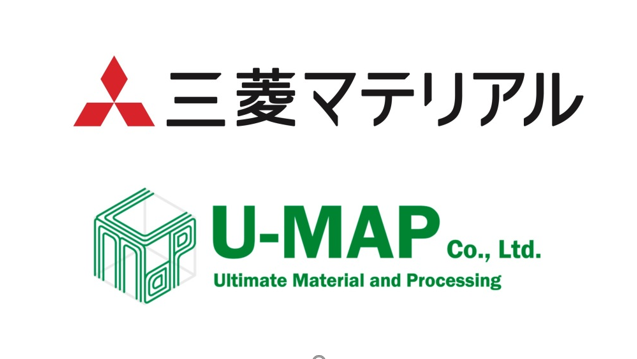 In recent years, with the enforcement of carbon dioxide emission regulations in various regions of the world, the trend toward electrification, especially in automobiles, has been increasing. As a result, the demand for power modules used in the electric drive control of automobiles is expected to grow rapidly. Power modules are also an important technology for energy conservation and renewable energy use in industrial equipment, and the market is expected to expand in the future. In the power module market, there is a strong demand for smaller size and higher output. In order to achieve these goals, it is essential to realize high heat dissipation and high reliability of ceramic circuit boards, which is the key material.
To meet these needs and trends, we have newly discovered that by adding our proprietary material, Thermalnite®︎, AlN ceramic substrates demonstrate both high thermal conductivity and high mechanical properties that have never been seen before. In the future, we will develop ceramic circuit boards with both high thermal conductivity and high reliability by combining them with Mitsubishi Materials' dissimilar material bonding technology that joints ceramics and metals.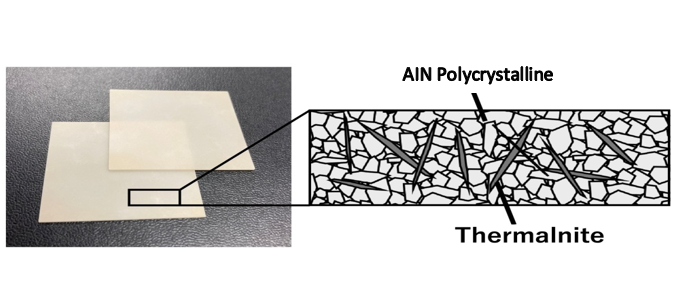 1.. "Heat dissipation" is an issue for power modules, which are an important technology for energy conservation
The market for power modules is expected to grow dramatically in the future due to the electrification and energy saving of automobiles and other industrial equipment. On the other hand, power modules that carry large currents have a problem of not being able to demonstrate their original performance due to the large amount of heat produced by resistance and lack of sufficient heat dissipation. In addition, the Ministry of Economy, Trade and Industry's "Semiconductor Strategy "* has listed the development of high heat dissipation modules as a priority theme. (*Semiconductor and Digital Industrial Strategy, Ministry of Economy, Trade and Industry, "Semiconductor and Digital Industrial Strategy (Outline)," June 4, 2021)
The ceramic substrate is the key material for efficient power module operation. U-MAP has achieved a ceramic substrate with high heat conductivity by using our original technology "Thermalnite®︎".
Ceramic substrates are an important material for effective heat dissipation in power modules. U-MAP has the world's only technology for combining Thermalnite®︎ with ceramics. We have developed ceramic substrates with both high heat dissipation and high efficiency by using Thermalnite®︎.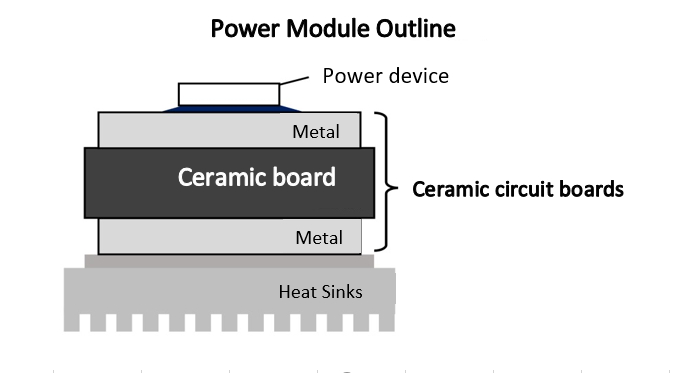 The heat generated by power devices is eventually dissipated from the heat sink. In between the heat sinks, an insulating, high-thermal-conductivity ceramic board is mounted, and high-thermal-conductivity metals are placed on the surface areas above and below the ceramic board. The ceramic board accounts for a high percentage of the overall thermal resistance, and by reducing the thermal conductivity of the ceramic board, the thermal problem can be solved to a large extent.。
we have collaborated with Mitsubishi Materials Corporation to develop applications that require high levels of reliability.
Mitsubishi Materials Corporation (MMC) has a high level of technology in the field of joining dissimilar materials such as metals and ceramics. By combining this technology with our own, we aim to create a high performance AlN substrate with high levels of reliability and the world's highest thermal conductivity of over 200 W/mK.. If this technology is successfully put to practical use, it is expected to be applied to applications that require particularly high reliability among power modules. In addition, improved heat release will make it possible to downsize other components and materials used in power modules, leading to reduced module costs.
In terms of the SDGs, we are aiming for more efficient use of energy and resources, and we would like to support technological innovation in power modules, which are a key element of this goal.
As an important step toward this goal, we would like to work with Mitsubishi Materials to improve the heat generation problem in EVs and industrial equipment through joint development.
About Mitsubishi Materials Corporation
Mitsubishi Materials Corporation is a "comprehensive materials manufacturer" that manufactures and sells basic materials such as nonferrous metals and cement, as well as mechanical and electronic materials and components used in automobiles and home appliances, and the cemented carbide tools needed to make them. Currently, we are formulating business strategies to create new products and businesses in the fields of "next-generation automobiles," "IoT and AI," and "building a sustainable and affluent society. We will continue to take on the challenge of creating new "materials.
About U-MAP, Inc.
U-MAP is a venture company established by Nagoya University researchers with expertise in the crystal materials. U-MAP develops and manufactures unique materials such as "Fiber-like Aluminum Nitride Single Crystal (Thermalnite®︎)" and composite materials using Thermalnite®︎. Thermalnite®︎ is an industrial material that provides efficient heat dissipation by filling ceramics and insulating resins, and can be used in mobile devices, power device modules, and high-brightness LEDs.  The company has won several awards, including the Grand Prix at the ILS Innovation Leaders Summit and the Grand Prize at the CNB Venture Awards. Our goal is to provide new solutions through technological innovation with advanced materials and processing technologies.
□Contact information
TEL:+81(52)-783-0310  URL:https://umap-corp.com/