U-MAP Inc. (Headquarters: Nagoya, Aichi, Japan; President/CEO: Kenji Nishitani; hereinafter referred to as U-MAP) has raised approximately 700 million yen through a third-party allocation of new shares to Real Tech Fund, Kyoto University Innovation Capital, Chukyo Yushi, Aichi Capital, EP-GB Investment Limited Partnership (established by Seiko Epson Corporation and Global Brain Corporation), and the Small and Medium Enterprise Agency Go-Tech project (investment acquisition framework). The funds were raised through a third-party allotment of new shares underwritten by Seiko Epson Corporation and Global Brain Corporation.

U-MAP has been developing Thermalnite, a material created at Nagoya University, to address thermal issues in electronic devices. With the funds raised, U-MAP plans to establish a mass production system by reducing costs further and introducing new facilities. The company aims to produce one ton of Thermalnite annually by 2024. In 2025, U-MAP plans to commence mass production and sales of high thermal conductivity resin products such as heat dissipation sheets, utilizing Thermalnite.
"Commercialization of High-Performance Heat-Dissipating Materials Using Thermalnite and New Business Development"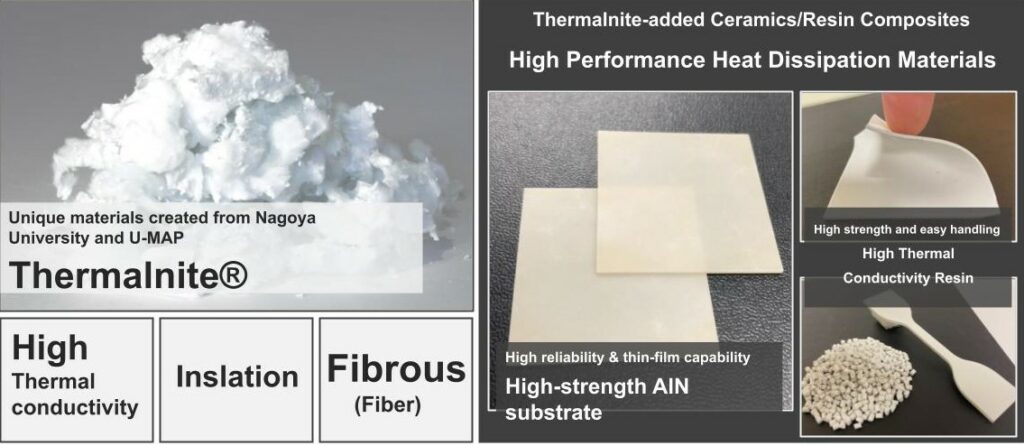 In addition to the proprietary material Thermalnite, U-MAP's heat-dissipating components utilizing Thermalnite exhibit high thermal conductivity and mechanical strength that were previously unavailable in conventional products. These components can be integrated into electronic devices to enhance heat dissipation performance. Through product development, U-MAP has achieved aluminum nitride substrates with mechanical properties (fracture toughness) almost twice that of conventional products. The company has provided samples to manufacturers of components, devices, and other firms and is currently evaluating quality in preparation for product introduction. In the realm of resin components, U-MAP has created lightweight, high-strength, heat-dissipating components with high thermal conductivity using minimal additives. Going forward, U-MAP plans to expedite collaboration with external partners to commercialize these products by leveraging the company's compounding and evaluation technologies developed via their integrated supply chain, covering raw materials, components, heat-dissipating sheets, greases, and resin base materials.
"Solving the Growing Thermal Challenges in Electronics to Realize an Energy-Saving Society"
Recently, thermal issues in electronic devices have received increased attention with regards to carbon neutrality. Heat generated by electronic equipment leads to performance degradation and shortened equipment life, which is a significant problem, particularly in industrial equipment such as EVs, communication systems (5G), and data center servers. In 2030, worldwide power consumption for cooling data centers is estimated to reach 400 TWh (equivalent to 40% of Japan's total power consumption), making heat generation countermeasures an urgent issue.
U-MAP's heat-dissipating components improve the heat dissipation performance of the material used within the device, thus reducing the amount of heat generated by the cooling mechanism. By enhancing the heat dissipation capabilities of materials inside the equipment, the cooling mechanism can be reduced or eliminated, leading to equipment miniaturization and energy savings.
"Impact Report on Energy-Saving Society through Materials Technology"
In this Impact Report, U-MAP identifies the ISSUE of thermal issues in electronic devices, the SOLUTION of heat-dissipating material technology that addresses the ISSUE, and the IMPACT STORY that connects them to clarify the roadmap for creating a social impact. U-MAP will continue to contribute to a decarbonized society by developing and providing innovative thermal solutions to reduce the size of electronic devices and energy consumption for cooling.
Click to read U-MAP's Impact Report.↓
http://umap-corp.com/en/wp-content/uploads/sites/2/2023/06/Umap_ImpactReport_en.pdf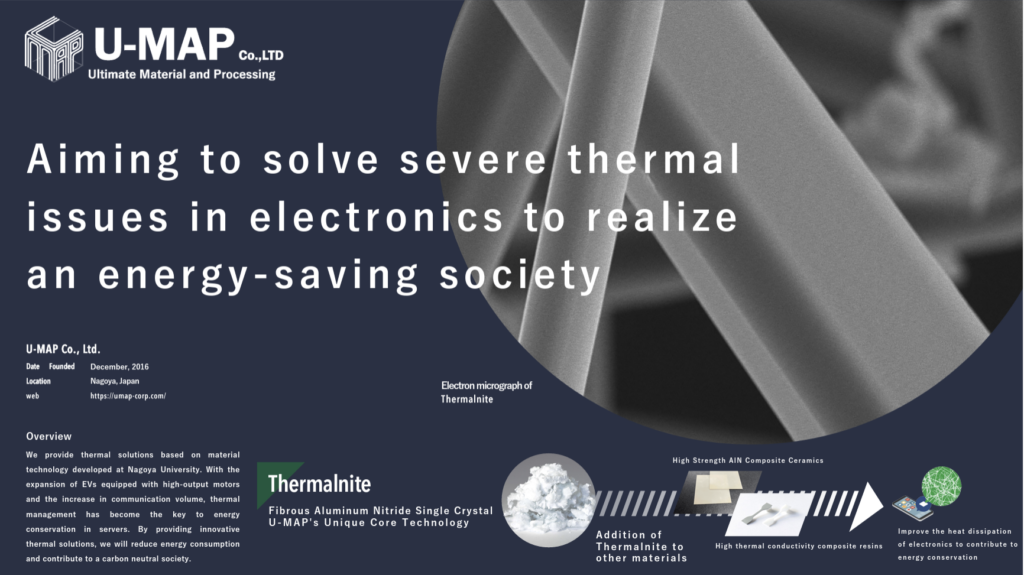 U-MAP is actively recruiting the following technical members.
Those who have the following thoughts and feelings
"I want to work on solving energy problems!" "I want to change the world with new materials!"
We are looking forward to hearing from you if you are interested in joining our team.
We are an innovative materials venture that aims to solve thermal problems through the social application of "Thermalnite," a fibrous aluminum nitride single-crystal material that is the result of research conducted at Nagoya University's Ujihara Laboratory. By improving the heat dissipation of electronic devices, we aim to solve thermal problems that directly affect the performance and life span of devices, and to implement new functional materials that can realize next-generation communication networks and high-performance EVs.
For more information, please click here↓
https://umap-corp.com/en/news/come-join-u-map/
■Outline of Underwriters
・Realtech Holdings, Inc.
・Kyoto University Innovation Capital Co.
・Chukyo Oil & Fat Co.
・Aichi Capital Co.
・EP-GB Investment Limited Partnership (Established by Seiko Epson Corporation and Global Brain Corporation)
■Outline of Grants
The grant was awarded in 2022 to a small and medium-sized enterprise for its research and development support project (Go-Tech Project). Aichi Key Research Project IV (Phase IV)
■Outline of U-MAP Inc.
Date of establishment: December 12, 2016
Location: Non-supporting, Chikusa-ku, Nagoya, Aichi, 464-8601, Japan Nagoya University Incubation Facility 207, Furo-cho, Chikusa-ku, Nagoya City, Aichi Prefecture, Japan
Representative: Kenji Nishitani, Representative Director
Business: Development and sales of Thermalnite and heat dissipation materials Official
website: http://www.umap-corp.com/